Collection: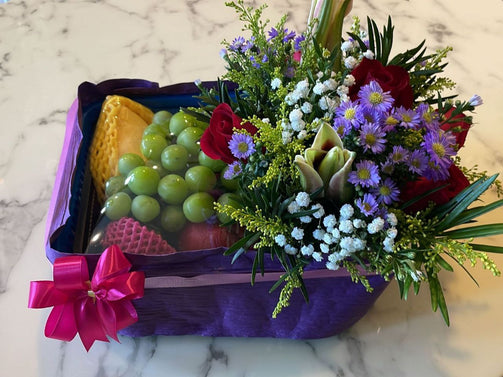 Collection:
Dexter's Floral Fruit Basket
Dexter's Floral Fruit Basket
Regular price

Sale price

$67.00
In the basket:

Bespoke floral arrangement; and
A seasonal mix of the selected fruits:

Peaches, Passion fruits (Ecuador) or
Mangoes (Thailand) or
Dragonfruit (Ecuador/Vietnam) or
Gold Kiwis (New Zealand) or
Plums (USA) or Avocado (Australia) or
Premium Cat 1 Grapes, (USA, Australia)
Important notes:
Floral arrangement is entirely dependent on season. We reserve the right to make appropriate substitutions of flower types or colours due to availability and season. Any substitutions made will reflect an equal value.
All fruits above are packed as described, with variations dependent on the weekly seasonal supply & quality. Fruit variants are subject to availability. We prioritise q

uality over quantity.

If this is a

 

gift with a customized message, please list your message on checkout in the CART NOTES.
The fruits are hand-picked for freshness and can be enjoyed immediately. If you prefer, firmer fruits (such as Persimmons/Dragonfruit) may be further ripened for a couple days if you prefer a softer and sweeter texture.
Images are provided for reference only. Actual product may vary from the image. 
For additional instructions, please email us at

 

dexterfruits.sg@gmail.com.
Storage Details:
Please refrigerate

 

the box of fruits. However, if you wish to further ripen the fruits, please leave specific fruits at room temperature for

 

2 - 3 days before refrigeration. 
Please view our

 

FAQ

 

for more details.
Delivery / Collection Details:
Orders will be ready for self-collection or delivery in 1

 - 2 days, 

Delivery timing: 12PM - 7PM
Standard delivery (+$7.50)
Specific time range of delivery, (+$17.50)